Shriram Foundation's InQuizitive
Quest for the best
"All children have within them the potential to be great kids. It's our job to create a great world where this potential can flourish."

This April, we at Shriram Foundation set out on a quest to uncover the potential of the students in our Krishna District schools. We piloted a school-level quiz competition for the children from classes 3-9 for each of the 25 schools in our Mission100 project. The team worked tirelessly to create quiz questions based on our monthly newsletter, Chalkboard and some general knowledge questions.

The quiz was held in two levels at each school. In the first level, children were given a written test consisting of 20 quiz questions. The top 3 students from each class were selected for the next level and teams were formed.

The 3 teams then competed in the second level that consisted of few rounds of oral and pictorial questions.

The event was thoroughly enjoyed by the children and they were seen to participate very enthusiastically. All the finalists were given prizes and certificates.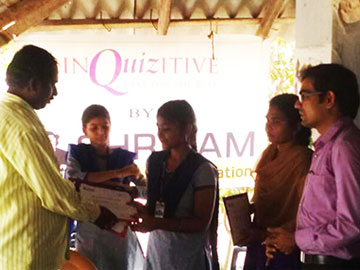 Certificate and Quiz cards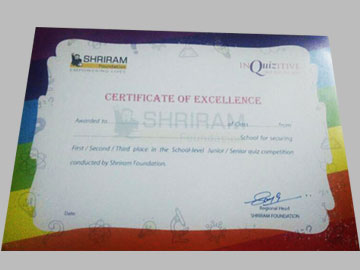 Certificate and Quiz cards
Student feedback for the quiz competition.