Impact - Two wheeler Technician
Two-wheeler Technician Program : Case Studies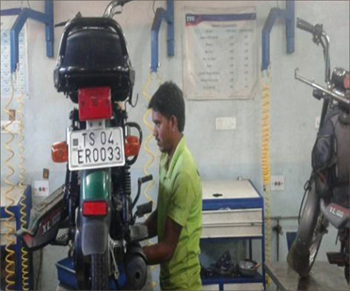 | | |
| --- | --- |
| Name: | Devarasetti Ganesh |
| Trained at: | IL&FS Institute of Skills, Khammam |
| Employer: | TVS Rangaraya,Khammam |
| Pay: | Rs.5000/-per month |
| Father: | Narasaiya, Daily wage labour |
Extreme poverty and minimum education had made Ganesh believe that there was no way he could have a respectable job with decent earning. One day a friend of his informed him about IL& FS and their free of cost Two-Wheeler Auto Service Technician training program in Khammam. He enrolled for the course believing that it would help him to fight the situation he was in, and to his utter delight, he was not disappointed. He says that taking this course wass one of the best decisions of his life. He is extremely grateful to IL&FS and Shriram for giving him such a golden opportunity. His dream of having a respectable job is fulfilled and he is now settled in life. He gets 5000/- per month and is based out of his home own in Khammam.
Two-wheeler Technician Program : Case Studies
| | |
| --- | --- |
| Name: | Somaraboina Naresh |
| Trained at: | IL&FS Institute of Skills, Khammam |
| Employer: | TVS Rangaraya,Khammam |
| Pay: | Rs.5000/-per month |
| Father: | Venkanna, Daily wage labour |
The parents of Somaraboina are daily labourers and they wanted him to assist them in their work. He came to know about IL&FS Two-Wheeler Service Technician training course and got himself enrolled in it. After completing his training successfully he got placed with TVS Rangaraya, Khammam. Today he is getting Rs.5000/- per month and is able to help his parents. He gives credit to IL&FS and Shriram Foundation for his success.